Ballymac
Ballymac GSC Player of the Year 2011 was held in the club rooms after the Ballymena match.
I would like to put on record a big thank you to our sponsors, Solway stars Fc, Richmond- Mr. David Stewart and Mr. Simon kitchison, our 3 main sponsors, and everyone who put small ads in our programme for the night.
The Ballymac Player of the year went to Colin Nixon.
The Jackie McCausland memorial award for Young player of the year went to David Howland.
The Jim Campbell Memorial Merit Award went to Paul Leeman for his services to Glentoran and the above club over the past 15years. I would like to thank Scott Young and Pete Batey for turning up on the night.
We had a very good night afterwards when we got the awards all done and dusted, the result early in the day could of been better, we had to pick up the pieces on the night.
We had 80 people enjoy a four course meal washed down with table wine then went on to enjoy a few drinks and a night of Elvis, then finish up with cheer up big Davey and Penny arcade.
Mr. Paul Leeman presented our club with his 3 Gold Cup Medals what now sit in proud in our Tom Patterson Memorial Trophy Cabinet.
Once again big thank you to all who turned up or supported in other ways. Yours in sport
  Mr. Thomas Sewell, Chairman, Ballymac GSC.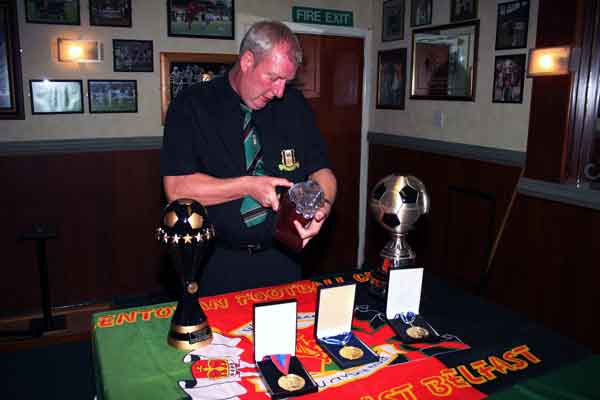 Hutchie checking out.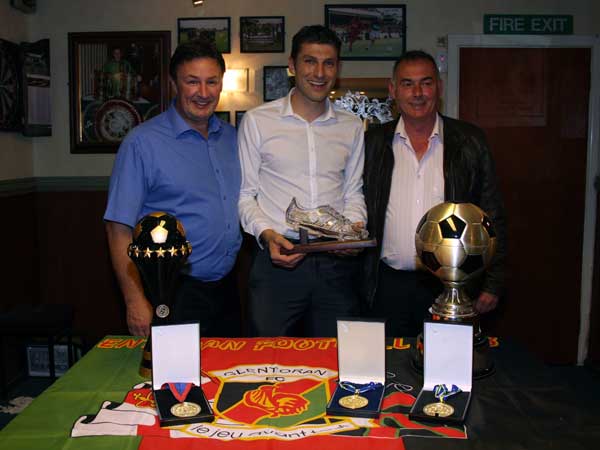 Paul receives his award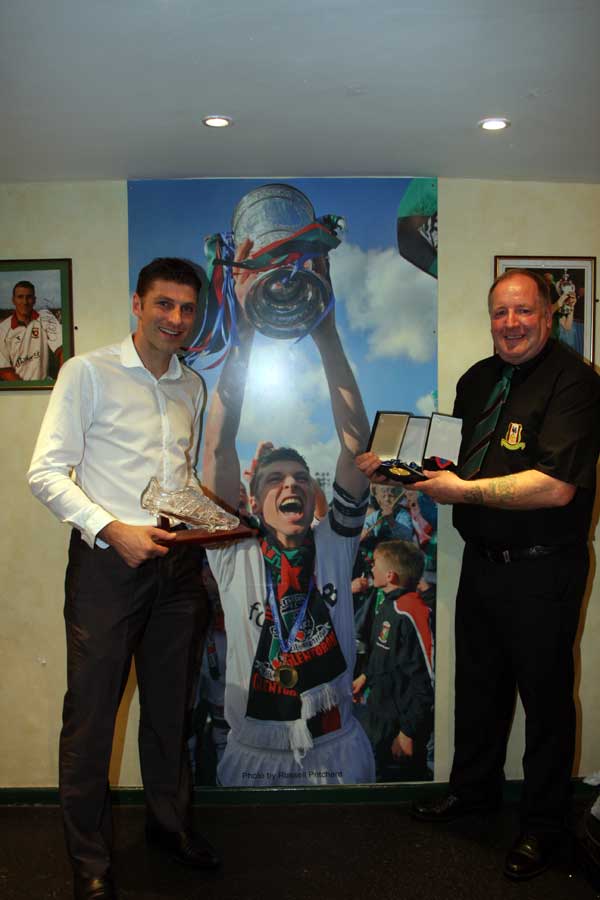 Paul handing over his medals to the Chairman, Thomas Sewell
Paul Leeman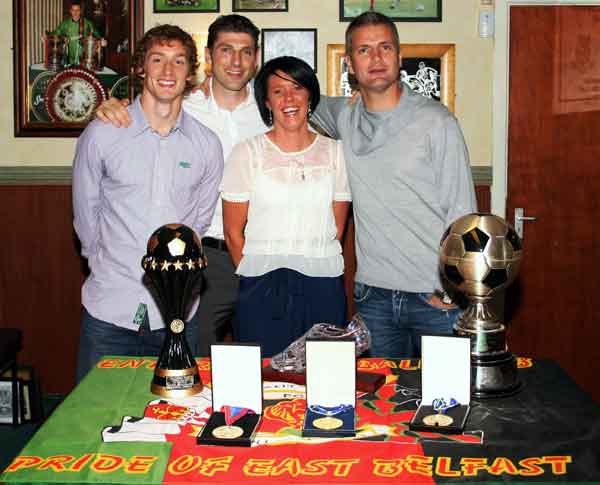 Louise Sewell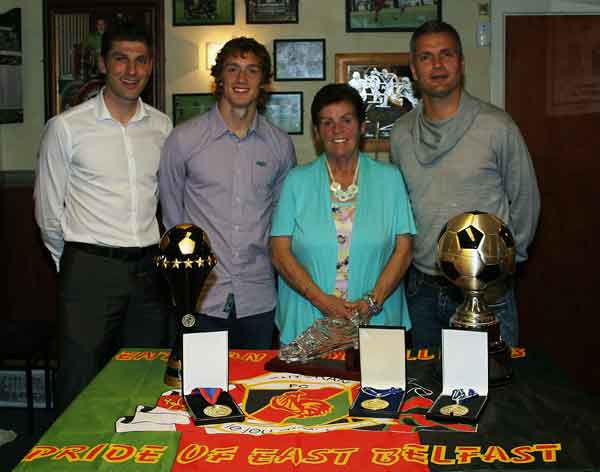 Jackie McCausland Memorial award for Young player of the year went to, David Howland.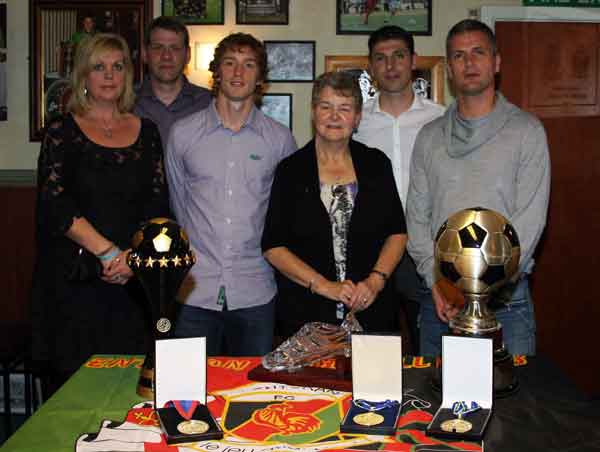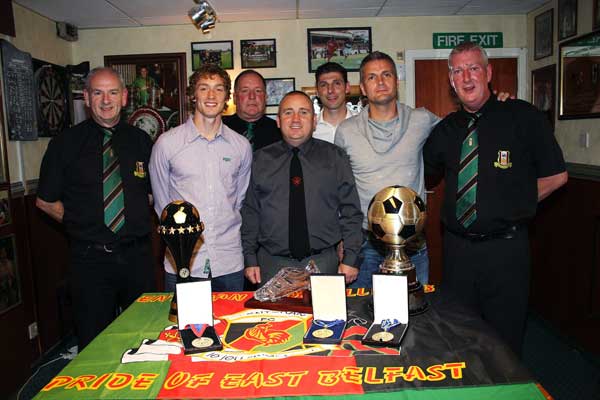 Players and Members
---
---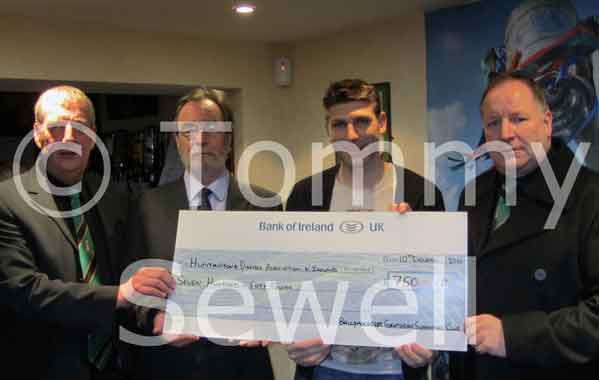 ---
Ballymac GSC had their annual pool n darts in memory of Tom Patterson. The Freelance Tom Patterson memorial trophy is played for every year and this year we had a good turn out from; 1st Ards, 1st east Belfast, Carryduff, Fred Roberts, Ballymac & Hearts boys on tour that made the effort come over as guest of the Freelance loyal. And the winners 2012, the Freelance loyal beating 1st Ards in the final. On the day the club presented Mark Gibson with cut glass for the hard work put in to Glentoran TV. Ballymac would like to thank all the clubs for making this a very special day. Tom's parents are taken back at all his good friends who turn out every year to support this.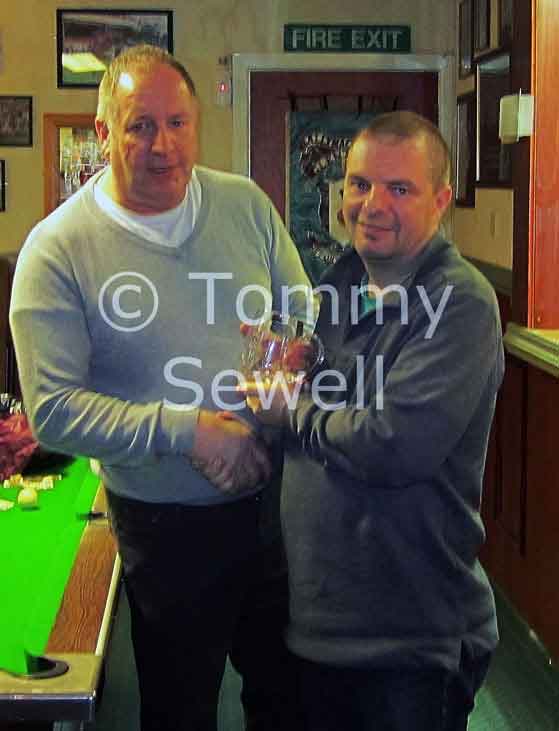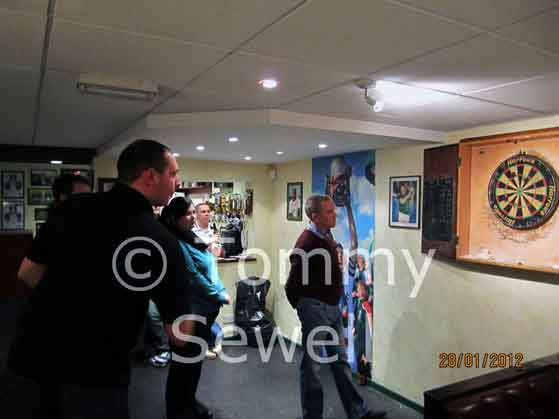 ---